Just complete the form and we'll mail you a sample.
Promotion intended for network cabling contractors/installers, consultants and similar (i.e., not intended for residential customers). Siemon reserves the right to decline ineligible requests. While supplies last, limit 1 sample per person.
Features and Benefits
Siemon's Universal Modular Furniture Adapter adjusts to fit all known furniture openings and panel thicknesses, providing a single mounting solution that eliminates the need for furniture-specific mounting products.
Single Solution – Single product solution for securely mounting work area network connectivity in any of today's commonly used modular furniture systems.
Flexible Mounting – Fits wide range of furniture opening sizes, from 1.3in (33mm) to 1.75in (44.4mm) high by 2.63in (67mm) to 3.0in(76mm) wide.
Manage Bend Radius – Extended design provides additional mounting depth and cable management space, helping maintain bend radius compliance in space challenged furniture pathways.
Optional Angled CT Adapter – Further extend mounting clearance for larger diameter, high-performance cabling with strict bend radius limits.
Low-profile – Impact-resistant design eliminates catch points to reduce potential damage due to incidental contact – a common concern in modular furniture connectivity.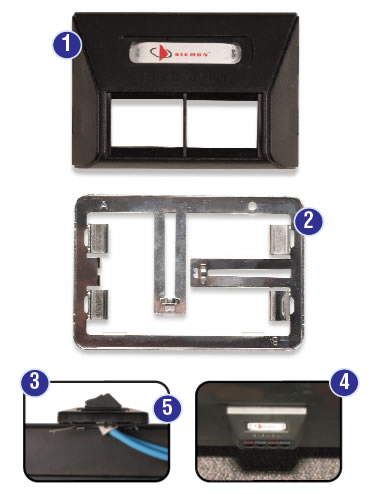 Learn more about the Universal Modular Furniture Adapter and get ordering information.