For Immediate Release - February 18, 2014
Siemon Educational Webinar Series Explains New IEEE 802.11ac 5 GHz Wi-Fi
Siemon is pleased to announce a new webinar with an educational update on the newly published IEEE 802.11ac Very High Throughput 5 GHz Wireless Standard. This latest informative webinar titled, IEEE 802.11ac 5 GHz Wireless Update and Structured Cabling Implications, will be presented by Siemon's Valerie Maguire and will take place on March 6, 2014.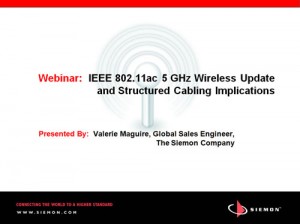 Offering users the potential to double their current wireless speeds, the new 802.11ac standard has far reaching implications with respect to cabling infrastructure design. With the introduction of 256 quadrature amplitude modulation (QAM), which allows more bits to be encoded in a single symbol, an eventual 160 MHz channel bandwidth and a maximum of eight spatial streams, 802.11ac will immediately support gigabit Wi-Fi with the potential to theoretically deliver 6.93 Gb/s wireless data rates in the future. For the first time, the specification of high performance copper cabling supporting access layer switches and uplink connections will be critical to achieving multi-gigabit throughput and fully supporting the power and capacity of these next generation wireless access points.
"We are excited to yet again continue our complimentary webinar series with this engaging webinar on the latest wireless standard—with all applicable terminology explained and clearly presented for a wide range of technical and non-technical audiences," says David Wall, Global Integrated Marketing Manager at Siemon. "As part of Siemon's commitment to keeping industry professionals and their customers informed, this educational webinar will answer all of your questions concerning emerging 802.11ac technology trends, products and capabilities. The webinar will also provide a Q&A portion for participants to interact with our expert presenter, Valerie Maguire, to get the answers they need surrounding this latest wireless technology."
To register for the free March 6th webinar, IEEE 802.11ac 5 GHz Wireless Update and Structured Cabling Implications, visit: www.siemon.com/webinars. Anyone who registers for the event will gain first access to the Siemon white paper of the same name. All Siemon webinars are also archived for participants to select and review previously recorded sessions at any time.
###
About Siemon

Established in 1903, Siemon is an industry leader specializing in the design and manufacture of high quality, high performance IT infrastructure solutions and services for Data Centers, LANs and Intelligent Buildings. Headquartered in Connecticut, USA, with global sales, technical and logistics expertise spanning 100 countries, Siemon offers the most comprehensive suites of copper and optical fiber cabling systems, cabinets, racks, cable management, data center power and cooling systems and Intelligent Infrastructure Management solutions. With more than 400 patents specific to structured cabling, Siemon Labs invests heavily in R&D and the development of Industry Standards, underlining the company's long-standing commitment to its customers and the industry. Through an ongoing commitment to waste and energy reduction, Siemon's environmental sustainability benchmarks are unparalleled in the industry, including 179% global carbon negativity and zero-landfill status
Siemon Interconnect Solutions (SIS) is a Siemon business unit comprised of a team of dedicated technical sales professionals supported by Siemon Labs, mechanical, electrical and signal integrity engineers committed to solving industry and customer driven interconnect challenges. We provide custom network infrastructure solutions to: OEM's, Leading Manufacturers, Value-Added Resellers and System Integrators.
Press Contact:

Betsy Conroy
(860) 945-4200